Simple to integrate, Smart Form is a smart payment form accessible by the API via the paymentRequest service. Hosted in CentralPay's PCI-DSS area, it includes essential features to payment needs.
By using Smart Form, you avoid the most restrictive part of PCI-DSS requirements. All sensitive data is processed directly in CentralPay's PCI-DSS environment. Therefore, credit card data never passes through your server.
Smart Form is linked to the following services :
paymentRequest

service that initiates payment claims
"Push & Pay" service that automates and issues notifications
With Smart Form, most complex parts of the process are managed by CentralPay :
Generating and hosting payment form,
Verifying users information,
Managing the various payment methods,
Securing cards data,
Generating payment reminders or requests,
Managing the different payment methods and types.
The service is accessible through :
CentralPay API integrated with a third party Information System :


By HTTPS redirect to a website
By e-mail/SMS notifications
By displaying or printing a QR Code

The web console or CentralPay mobile application :


By e-mail/SMS notifications
By displaying or printing a QR Code
Example of Smart Form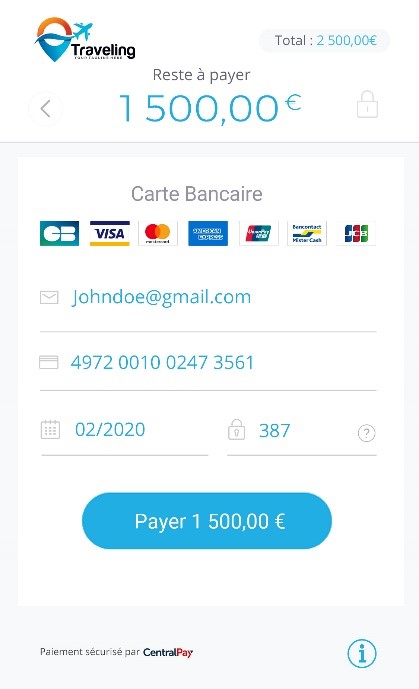 Available payment methods

CREDIT CARDS
Visa, Mastercard, Amex, Bancontact…

CREDIT CARDS
Payment in installments to stagger your customers payments.
Visa, Mastercard, CB

E-WALLET AND LOCAL PAYMENT SYSTEMS
PayPal, Alpay, WeChat, Ideal…

HOLIDAY VOUCHERS
ANCV

FIDELYPAY
Cashback, discounts, fidelity points

TRANSFER
SCT (SEPA Credit Transfer)
Choice of payment methods :
Point of sale configuration defines the payment methods that will be accessible to the customer.
Depending on the desirable interactions between combined payments, some methods may not be available.
Combined with the Push & Pay service, a Smart Form can integrate recurring payment methods :
Multi-participants payments
Combined payments on several payment methods
Automation of requests, reminders and notifications
Custom Form allows you to create your own payment forms and consume API objects in a unitary way in order to create a unique payment experience fully integrated into your services.
Therefore, a Custom Form is created and hosted by you while allowing you to strongly reduce the security risks when handling banking data. By integrating the payment process on your side, you keep control of the payment page and user experience.
Custom Form allows consumption of certain services not supported by Smart Form like subscription payments (subscription) or one-click upsell payment.
Example of Custom Form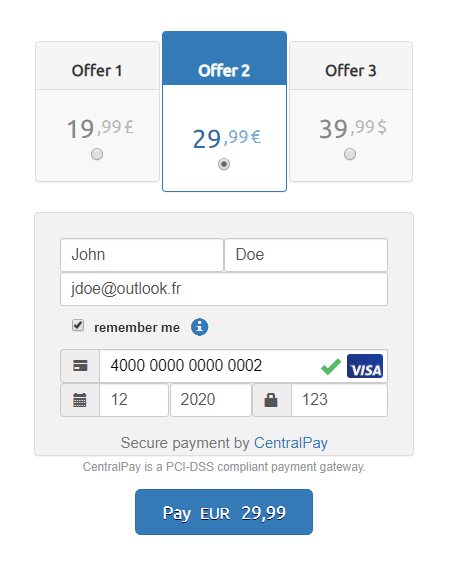 CentralPay simplifies the PCI-DSS compliance processes, by sweeping away constraints regarding sensitive data management while offering you exclusive control over integrating your services and advanced features.
Its tokenization process has been designed to allow you to determine and limit your security perimeter opting for an SAQ A or SAQ A-EP without degrading your users experience regarding the payment features and processes.
You can either use two options : a "Smart form" or a "Custom form" (with token delivery + JavaScript) to collect payment information which sent directly to CentralPay environment without routing through your servers.
Which means :
Securing your payment pages using TLS (1.2 min) (Transport Layer Security) to meet HTTPS standards
Review and validate your service's PCI compliance every year
As mentioned below the required compliance levels based on the modules utilisation :
The SMART FORM and the SAQ A
With this module, Centralpay manages all exchanges with customer payment cards in a hosted CentralPay IFRAME so that sensitive data never route through your servers. Using this service allows you to access the simplest PCI-DSS compliance level known as SAQ A.
You can download the SAQ A at this address :
https://www.pcisecuritystandards.org/documents/PCI-DSS-v3_2_1-SAQ-A.pdf
The CUSTOM FORM and the SAQ A-EP
Thanks to the combination of « Custom + Token.js », you manage yourself your payment forms for an optimized payment experience. This method implies that you initiate the payments on your servers and you must be SAQ A-EP level compliant.
You can download the SAQ A-EP at this address :
https://www.pcisecuritystandards.org/documents/PCI-DSS-v3_2-SAQ-A_EP-rev1_1.pdf